Our guide will give you the tools to plan your perfect trip.
We are thrilled to offer an in-depth, step-by-step Tour du Mont Blanc Planning Guide which will walk you through every aspect of the preparation process for the TMB. From deciding which direction to hike, understanding what to expect at each stage, and learning how to navigate using just your smartphone, our program will save you hours of stress and endless Google searching. 
What Can You Expect?
The modules in our guide include essential information and helpful videos to walk you through the entire planning process in the easiest and most efficient way possible. By using our planning guide, you will…
Utilize an easy-to-follow timeline to ensure you don't miss out on making reservations and getting good deals
Learn which bookings need to be made in advance and how to make them
Evaluate which accommodation type will be best for you based on our trail-tested experience
Create a budget for your trip, estimate expenses in every spending category, and use our best tips for saving money
Learn how to turn your smartphone into a GPS device for navigating on the trail (even without cell service!)
Receive detailed maps and descriptions of each stage, including GPS coordinates
Get in shape for the hike using our three-month training plan
Use our thorough packing lists and gear recommendations to put together the perfect kit
Choose from 12 custom itineraries to ensure you've got the perfect route
Get email access to us for personalized Q&A support
Option for customized one-on-one consulting
And much more!
Is our planning guide right for you?
The resources in our guide are invaluable for both novice and experienced travelers and hikers. Our guide is perfect for you if…
You want to make the most of your TMB trek, but you're insanely busy and can't devote the countless hours of research it would take to do it yourself.
You are new to backpacking and/or international travel and want to make sure you've prepared properly.
You dread the planning process and want to enlist a couple of "Type A" enthusiasts to do the grunt work.
You want to complete the trek independently (instead of joining a tour group), but want access to a wide-range of planning tools, resources, and insider tips that are typically only available from a tour company.
What's included?
Our planning guide includes everything you need to plan the perfect TMB in an easy to navigate format. See all of the planning modules below: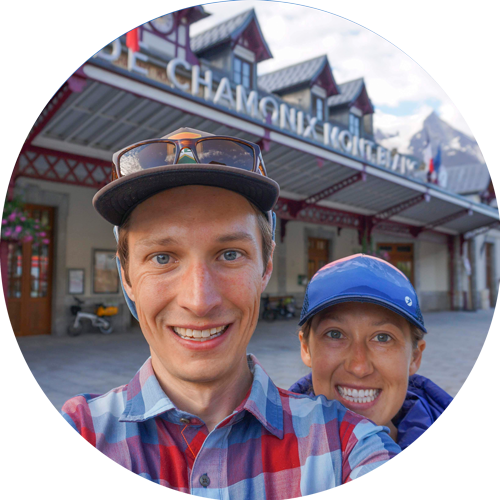 Hi, we're your virtual planning guides.
We're Emily and Ian, a married couple based in Boulder, CO. We share a passion for the outdoors, touring the globe, and travel planning. So when we discovered the Tour du Mont Blanc, it was like the universe had conspired to combine all of our favorite things. We hiked the TMB in the summer of 2017 and completely fell in love with the mountains, cultures, and the travel experience that can be had with just our feet and our backpacks.
However, in preparing for the trip, we quickly learned that there is a lack of clear, reliable, easy-to-access information out there. We put a LOT of work into planning our own trip, and we wanted to share it with our fellow hikers. Thus, TMBtent.com was born and we haven't looked back. As we've grown the site, we've had the opportunity to connect with numerous locals and hikers in order to continually grow our knowledge base.
Nowadays, we are one of the top-ranked TMB resources on the web, and we're constantly adding and updating our content. In summary, we are just a couple of travel planning enthusiasts who want to help others experience how awesome the TMB can be. We would love to be part of your journey!